It's been a MAGICAL weekend!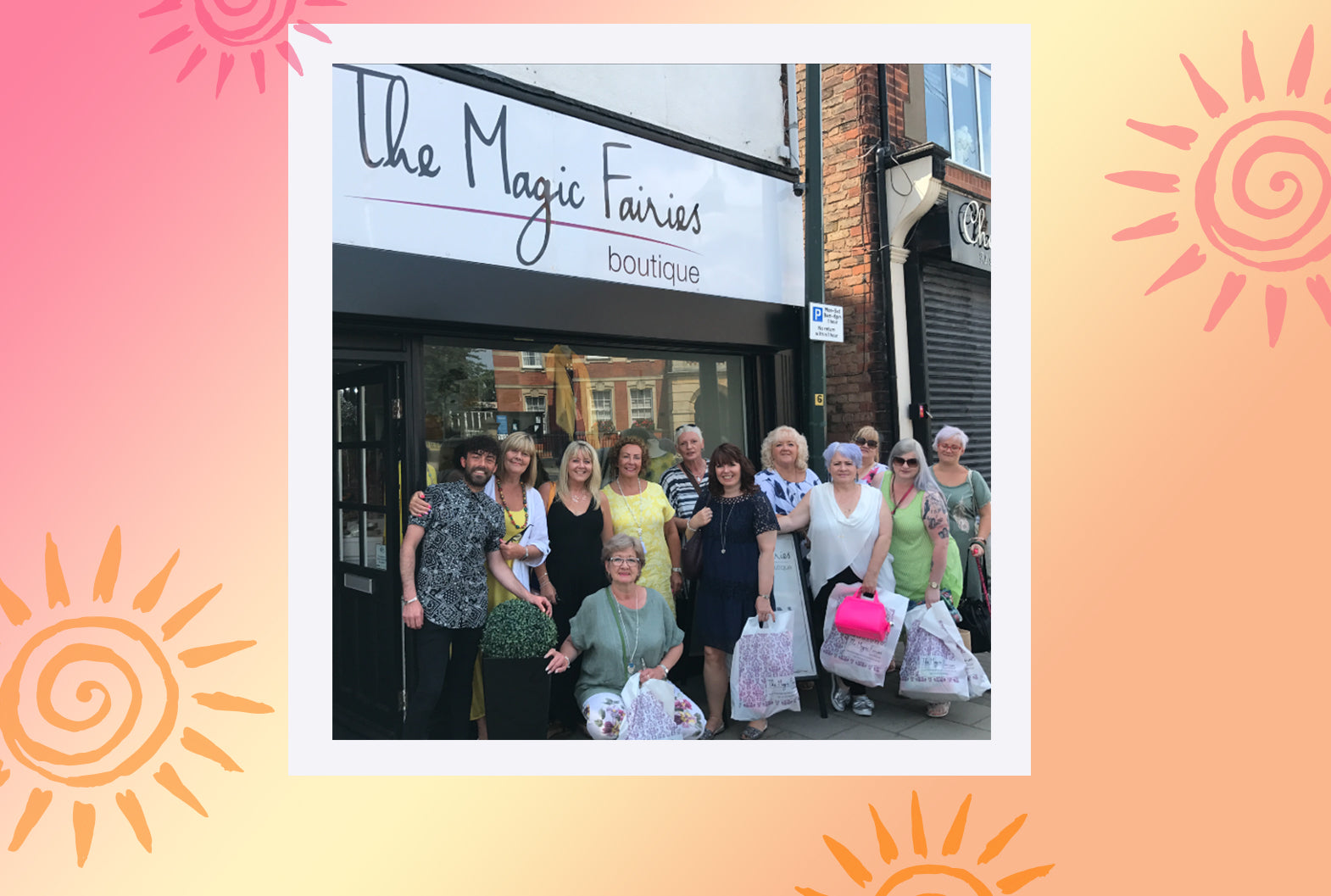 Today marks an important day for us here at The Magic Fairies Boutique.
Today - on a glorious summers day in July - we've brought together 9 incredible women. 9 incredibly different women. These 9 women have come from different backgrounds, locations and upbringings. They've travelled from huge cities, from small villages, from Scotland and even from the corner of Wales, each one with a different journey to make. But make those journeys they did, and now we're so privileged to welcome them to our Cleethorpes home to see where it all began.
These 9 women have all come together for one simple reason.
They deserve a 'thank you'.
These beautiful ladies - Joanne, Vanessa, Cassandra, Jean, Roni, Melanie, Lorraine, Laura and Joanne (yes, two Joannes!) - have been loyal viewers and shoppers ever since we started going live on Facebook here at the boutique. We noticed them. The same faces that popped up every Tuesday at 7pm. The same names that commented on our posts, enjoyed our jokes and discovered our latest arrivals. Each of these women have kept up with the crazy comings and goings of our boutique. They've shared our posts, watched our updates, and been amazing supporters each time we've said the immortal words: "We've got new stock!"
So we decided to celebrate. To give back to these fashionable females who have stayed with us right from the start. And what better way to cherish and value our diverse range of customers by bringing this amazing group together for a shopping experience they'd never forget. And a few bottles of gin to match!
Every store has its ups and downs throughout the years, and any independent retailer knows exactly why you have to fight your corner along the way. But to meet these beautiful, strong-minded women and get to know them, their stories and why they love our clothing and customer service has made our entire journey worth it.
Our success isn't defined by the number of tunics we sell, or the number of financial targets we hit. Our success is defined by the people who walk through our door and leave feeling happier, more beautiful and more confident in themselves. To have Jean come down all the way from Newcastle and say that our little shop "feels like a home from home!" is a compliment that we never expected and fills our entire staff with pride. These 9 women all came to us with different shapes, sizes and styles, but that is exactly what makes each one of them so special. To see friendships and a community blossom from the clothes that we sell and the service that we offer holds more meaning than any balance sheet ever could.
Because what makes a retail business successful? It's not just about the products you sell, or how many views you can get on a Facebook live video. A statistic can only tell you so much. It's about how our lovely customers feel when they come and see our store or visit our online shop. It's about creating an experience that they want to share with their friends, have again and remain loyal to. Joanne came along from Barton-on-Humber this morning and simply said: "I love your clothes, your staff and your service." To tick all three boxes is a testament to the community that has thrived from our store, and so to get this feedback shows that we're clearly doing something right. Because of that, we want to continue making a difference to the customers who find time to step into The Magic Fairies Boutique.
If you've ever shopped with us, visited us or even just had a little look at our gorgeous website - we'd like to thank you. Because no matter where you're from, who you are or what kind of clothing you're into, we believe that you deserve a shopping experience that goes above and beyond the norm. We're so blessed to have an audience and customer base that remain loyal to us, and there are never enough words to express how grateful we are to every single one of you. You're incredible!
Tonight our staff will be heading out once again with these gorgeous ladies for another night on the town (and undoubtedly a few more glasses of gin!). If you're in the Cleethorpes area and fancy a cheeky tipple, please do come and say hi. And for everyone else in the UK and beyond, we hope you have a wonderful weekend. We're waving our Magic Fairies wand and spreading all our love today! See you soon.
Brett & The Magic Fairies team xx